WhatsApp: WhatsApp is working on many new features. The company is working on various features for both Android or iOS users. Meanwhile, news is coming that soon people will see something new in groups on instant messaging app WhatsApp. In fact, the company is working to increase the word count of topics and descriptions in groups. That is, now group admin or members can better write group description and topic.
Can write many words
According to a report by WABetaInfo, a website that monitors WhatsApp development, WhatsApp is working on increasing the number of descriptions and topics for groups. After the new update, users will be able to enter group subject up to 100 characters instead of 25 characters, while the company is going to increase the group description from 512 to 2,048 characters. With this move by the company, users will be able to add important information to the group description and write things better. Note that this feature is currently being worked on and will be live for users in the near future. You will not receive this update immediately.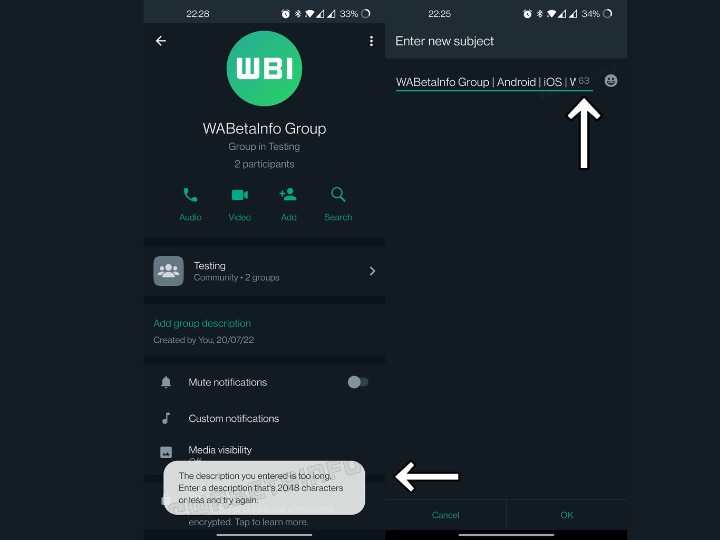 News reel
WhatsApp is very popular all over the world. More than 2 billion people are active on it. Currently, apart from personal work, all types of business and government work are done through this app. In a way, WhatsApp has become an important part of people's lives. That's why Meta also brings many updates from time to time to enhance the user experience.
This update is coming for iOS users
WhatsApp is about to add a new feature to Community Groups for iOS users. In fact, now users will be able to respond to messages in community groups. Just as until now users were able to respond to messages in a normal chat window, iOS users will now also be able to respond to community groups.
Read more: Jio, Airtel or VI… Find out which SIM card is most used in India
,