VI Service Down: Vodafone-idea, a well-known company in the telecom world, has issued an alert to its prepaid users. The alert states that the company is working on an update, under which users will not be able to recharge their mobiles for the next 13 hours from 8pm tonight. Yes, if your recharge is running out then you should do this now because after 8pm tonight you won't be able to recharge your mobile till 9:30am tomorrow as VI is doing system update.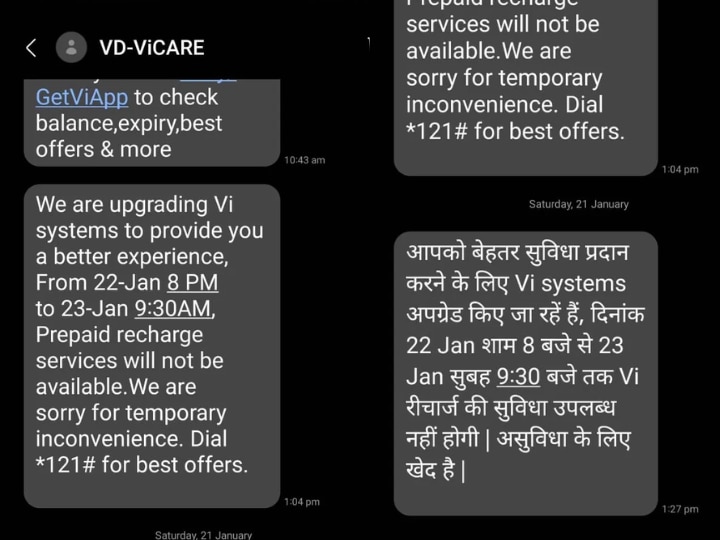 VI is in trouble for money
Vodafone-idea has already alerted its users by sending a message in both Hindi and English so that people do not get inconvenienced. If for some reason you did not receive the message, you can get the update through this article. Please tell me, Vodafone-Idea's financial condition is not good. This is why the company is yet to launch a 5G network. The company is struggling with such losses that they are yet to pay the license fee. The company had to pay Rs 780 crore as fees, of which only Vodafone-Idea managed to pay only Rs 78 crore.
News reel
5G network reaches 135 cities
Here Reliance Jio has expanded its 5G network to 135 cities. On 5G network, customers get 30 to 40 percent better speed and better calling experience compared to 4G. Customers can enjoy Jio's 5G internet by availing the welcome offer.
Switch to 5G network like this
To enjoy 5G internet on mobile phone, your smartphone must be 5G supported Also, you should have 5G network in your area. If you have both of these things, you can go to mobile phone settings and choose 5G network, then you can enjoy high speed internet.
,