Chat GPT: OpenAI went live on 'Chat GPT' in November last year. In just one week, it has done what YouTube, Google, Netflix, Facebook etc. could not do. Chat GPT saw one million traffic in just 1 week. Chat GPT is an AI tool fed with all publicly available data. It can answer your every question in a better and easier way than Google
To delve deeper into its capabilities, we personally asked it what a person should do if they want to become an actor or actress in India. You will be surprised to know Chat GPT's answer on this matter. This chatbot is simply what Google tells you through long, wide pages. We have also attached a picture for your convenience.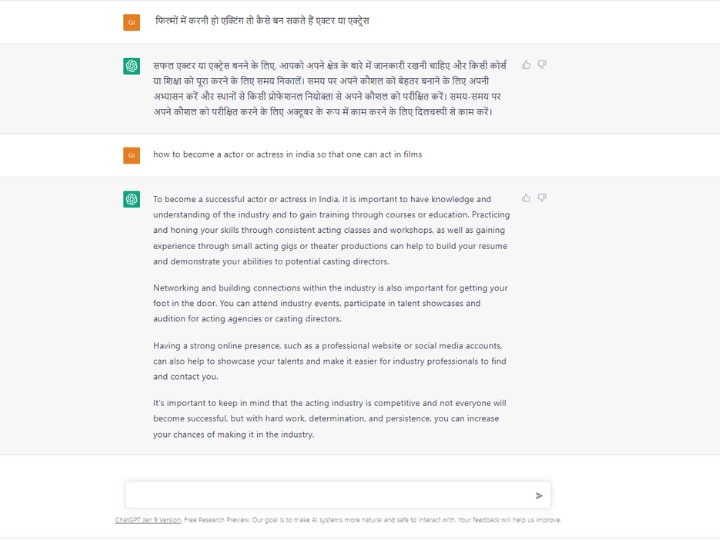 It is necessary to become an actor or actress – chatgpt
Chat GPT says that if a person wants to be a successful actor or actress, he must have knowledge of the film industry. A person should first have knowledge about society, then study related to film industry. Chatbot said that apart from studies, a person should constantly participate in events where he can put his acting skills and other things into society. One can go to drama school or theater etc to study film industry.
intranet
Chat GPT also explains how important networking is for a successful career. If you only learn the act and don't perform it (bring it to the public on a large scale), then in a way your knowledge will be on the ground. That's why you get involved in events and gatherings where you can present your talent in front of people. In this, as you will move towards the acting world, people will also recognize you. The better your network the better your career.
Online presence
The chatbot states that an online presence is currently required. If you want to be a successful actor or actress, you should have your digital account on apps through which you can showcase your talent in front of people. By putting your talents in front of people through the internet along with studying, you will start getting work and you will advance in your career. Internet can give you access to people from where you can showcase your skills in big movies or songs.
OpenAI's chatbot also says that acting career is not child's play. That is, it requires a lot of hard work and not everyone will get the taste that came in the mouth of big monsters. However, chatbots definitely say that if a person works hard, determined and in a smart way, he can definitely make his place somewhere in the industry.
This company has developed chatbots
This chatbot that tells you everything is powered by Open AI. Open AI is a company researching artificial intelligence. This company was started together in 2015 by Elon Musk and Sam Altman. However, Musk later parted ways with the company. Currently OpenAI's chatbot has created a buzz all over the world and everyone is talking about it.
Disclaimer! After asking questions on OpenAI's ChatGPT, we used the answers/feedback in the news. We are not responsible for the feedback provided by ChatGPT or their implications.
Read more: Chatting with 1024 people in a group has become easier, WhatsApp has brought amazing updates for ios users
,