Chat GPT:Tech sensation OpenAI's 'Chat GPT' has become famous all over the world. Everyone wants to give this chatbot a try to see what's in it that gave Google sleepless nights. Yes, this chatbot has given Google so much trouble that Google has declared it a red alert for itself. This chatbot is a machine learning based AI tool fed with publicly available data. If you ask any question from it, it answers you within seconds.
When we asked this chatbot a personal question about how one can make friends with girls, this chatbot gave some funny answers that can help you make and maintain friendships. Find out what the chatbot ended up saying.
The chatbot gave one funny answer after another
We have asked this question to this chatbot in both English and Hindi. You can also read the answer given by the chatbot through these images.

The chatbot said that if you want to be friends with a girl, first of all you need to know each other. Talk about or do whatever activity you both have in common. For example, if you both like to play sports, you can both meet at the sports center and talk about it. This will improve your friendship and you will be able to understand each other.
The chatbot said that whenever you befriend a girl, keep in mind her likes and dislikes and don't talk about things she doesn't like.
To make friends you need to be confident. Only then will you be able to put yourself openly to the person in front and only then will he tell you all the information about himself. Chatbots say you speak freely and without fear.
According to the chatbot, being a good listener is important in friendship and supporting others in need is most important. These are the things girls look for in their best friends.
To maintain a friendship for a long time, it is necessary to take care of your lady friend and remember her important events. Like birthday or any other special day.
Whenever your lady friend needs help, you should come forward and make all possible efforts to help.
The chatbot also says that it is not necessary that every girl is interested in being friends with you. So never disrespect girls and understand their feelings and move forward in life.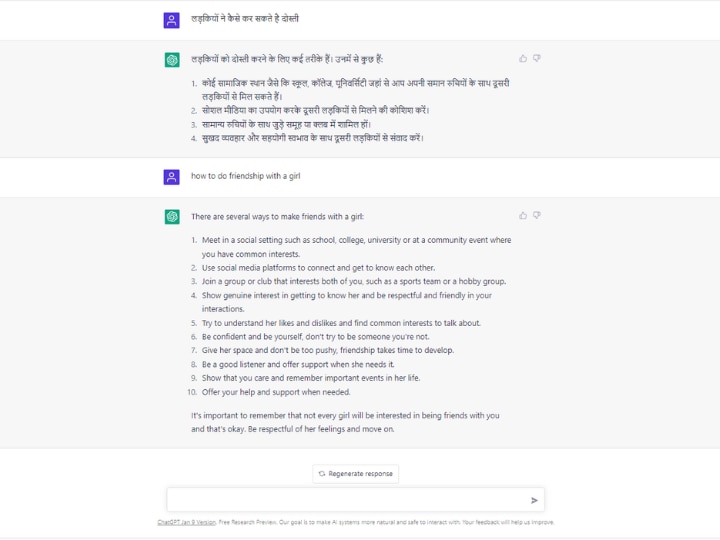 This company developed Chat GPT
This chatbot, which gives you simple answers to fun questions, is developed by OpenAI. OpenAI is an artificial intelligence research organization, started in 2015 by Elon Musk and Sam Altman.
Disclaimer! After asking questions on OpenAI's ChatGPT, we used the answers/feedback in the news. We are not responsible for the feedback provided by ChatGPT or their implications.
Also Read:
ChatGPT crossed 1 million users in 5 days, other apps like Insta-Facebook took so long
,