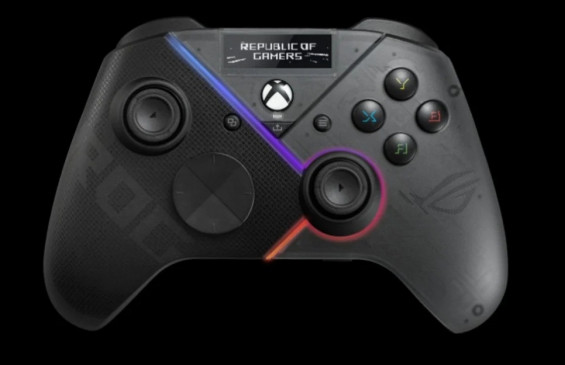 Digital Desk, San Francisco. Taiwanese tech giant Asura has announced that it will release a new Xbox controller later this year, featuring a built-in OLED display and multiple connectivity options for PCs.
As reported by The Verge, the ROG Raikiri Pro will come with a small 1.3-inch OLED display above the Xbox button that will show custom animations, battery, microphone status and more.
The OLED display (128 x 40 resolution) will mostly be used to change profiles during games or to check charging or mic status or Bluetooth pairing.
The Raikiri Pro's top two buttons will support controller profile switching during gameplay, along with button remapping, joystick sensitivity and trigger modes, all of which can be customized with the company's Armory Crate PC application.
Also, it will come with four programmable rear buttons, trigger lock and a circular directional pad (D-pad).
It will also be the first Xbox-licensed controller with tri-mode connectivity—Bluetooth, a low-latency 2.4GHz RF mode, and wired USB-C connectivity.
The tech giant describes the new gadget as a pro PC controller and mentions connectivity to Xbox Series X and Xbox Series S consoles via wired USB-C only.
The new controller will also have a 3.5mm headphone jack and a mute button.
Reports say that Asus is yet to reveal the exact release date and price of the Raikiri Pro.
(IANS)
Disclaimer: This is a news story published directly from the IANS news feed. Along with this the team of bhaskarhindi.com has not made any edits. In such a case, the responsibility of the concerned news shall be solely with the news organization.
,